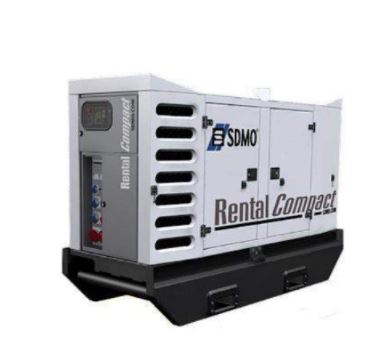 DESCRIPTIVE
Four-pole circuit breaker
Central lifting ring
Primary filter
Oil drainage pump
Battery isolating switch
Containment fuel tank and large autonomy
Inlet air preheating
Differential protection and earthing rod
Rental compact canopy
Leroy-Somer AREP(TS26-S004) Alternator
Forks and frame protection pads
Heavy duty air filter with interchangeable cartridge
POWER DEFINITION
PRP: Prime Power is available for an unlimited number of annual operating hours in variable load applications in accordance with ISO 8528-1.
ESP:The standby power rating is applicable for supplying emergency power in variable load application in accordance with ISO 8528-1.
Overload is not allowed
TERMS OF USE
According to the standards the nominal power assigned by the genset is given for 25℃ Air Inlet Temperature of a barometric pressure of 100 kPA (100m A.S.L) and 30% relative humidity. For particular conditions in your installation refer to a derating table.
For the generating sets used indoor, where the acoustic pressure levels depend on the installation conditions , it is not possible to specify the ambient noise level in the exploitation and maintenance instructions. You will also find in our exploitation and maintenance instructions a warning concerning the air noise dangers and the need to implement appropriated preventive measures.
SDMO R66C2C(CE)
| | |
| --- | --- |
| Engine type | 4045TFS70 |
| Alternator type | LSA 43.2 M45 |
| Canopy type | M3128 |
GENERAL CHARACTERISTICS
| | |
| --- | --- |
| Frequency(Hz) | 50 |
| Voltage value | 400 |
| Max power ESP (kVA) | 66 |
| Max power ESP (kWe) | 52.8 |
| Max power PRP (kVA) | 60 |
| Max power PRP (kWe) | 48 |
| Intensity (A) | 95 |
| Standard control panel | NEXYS |
BIG AUTONOMY DIMENSIONS
| | |
| --- | --- |
| Length (mm) | 2545 |
| Width (mm) | 1150 |
| Height (mm) | 1824 |
| Dry weight (kg) | 1650 |
| Tank capacity(L) | 390 |
| Autonomy at 75% of load (h) | N/A |
| Autonomy at 50% of load (h) | N/A |
SMALL AUTONOMY DIMENSIONS
| | |
| --- | --- |
| Length (mm) | N/A |
| Width (mm) | N/A |
| Height (mm) | N/A |
| Dry weight (kg) | N/A |
| Tank capacity (L) | N/A |
| Autonomy at 75% of load (h) | N/A |
| Autonomy at 50% of load (h) | N/A |
NOISE LEVEL
| | |
| --- | --- |
| Acoustic pressure level @1m in dB(A)() | 72 (0.7) |
| Acoustic pressure level @7m in dB(A)() | 61 (0.7) |
| Sound power level guaranteed (Lwa) | 91 |