Generator Sales
If you are looking for generator sales in the Bristol area you have found the right place.
At Bristol Event Generators we have a range of SDMO COMPACT line for hire and sale. The SDMO Compact line is the practical solution rental clients have been waiting for.
Ingenuity, functionality and commercial capacity are the key ingredients in these new, instinctive items made to be functional and also durable. They incorporate compactness, stamina, modularity, ease of usage and also high performance.

We deliver generators throughout the UK. Find out more about our generator sales on our dedicated website.
ArcGen Powermaker Diesel Generator
Incredibly silent with double/ multi-voltage. Safety attributes include emergency stop buttons, automatic engine shutdown and earth leak breaker fitted as standard. Lockable side doors permit easy accessibility to the unit. A brushless alternator reduces the need for upkeep. Additionally, three method gas valves enable a link to exterior fuel tanks. Enabling expanded running times and considerably minimising refuelling periods and prices.
SDMO Generators
SDMO specialises in technological services that are easy to utilise, portable and reputable. Optimum safety and security contributes to decreasing noise and fuel intake, offering experts with one of the most ergonomic equipment. The generators from the SDMO Portable Power range supply reputable outside energy resource for a wide array of demands. The range is designed for building specialists, but is also appropriate for the public. It has been developed to tackle all sort of site restrictions, whether technological, ergonomic or safety-related.
Denyo Generators
The welder's option since 1973. Our durable, trustworthy Denyo welder generators provide adaptable and precise capabilities for all kinds of metal arc welding. We additionally offer a specialist variety of off-shore and petrochemical requirements. Denyo gets the Task Done!
Pramac Generators
Supplying a wide power variety that goes from 20 to 500 kVA, the GRW collection is the perfect standard solution. Ideal for every rental firm trying to find functional, efficient and also resistant products. Created as well as engineered to work in a wide array of applications where a temporary power supply is required. These reduced noise exhausts generators are easy to utilise and also to keep.
Our high power, low noise generators will provide reliable power when the electricity goes. If you want to keep your home or business running during a power cut or emergency, these generators for sale offer a robust solution.
Call today on 01172 541 059 for generator sales or complete the contact form below to forward your enquiry.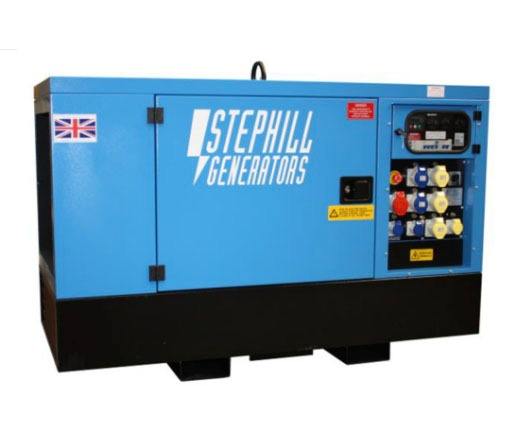 Stephill 16.0 kVA
Stephill 16.0 kVA