Our Complete Guide To Planning An Outdoor Event In The UK
---
From music festivals to sporting events or charity fund-raisers, outdoor events are incredibly popular in the British summer, and a great way to get the public's attention.
Organising or attending an outdoor event is a sure way to catapult your brand or cause to the forefront of their mind. But it can also be a challenging proposition. There are a lot of things to take into consideration, and if you get one thing wrong, the event could go from great PR to an expensive disaster.
Even for the most knowledgeable of event planners, event planning can be extremely stressful. Something always goes wrong and it seems like there is never enough hours in the day to fix a new problem.
Any tips that can help you become a more efficient event planner makes a much more smooth event for organisers and guests. From technology to time management, here are the top event planning tips from experts who have seen it all.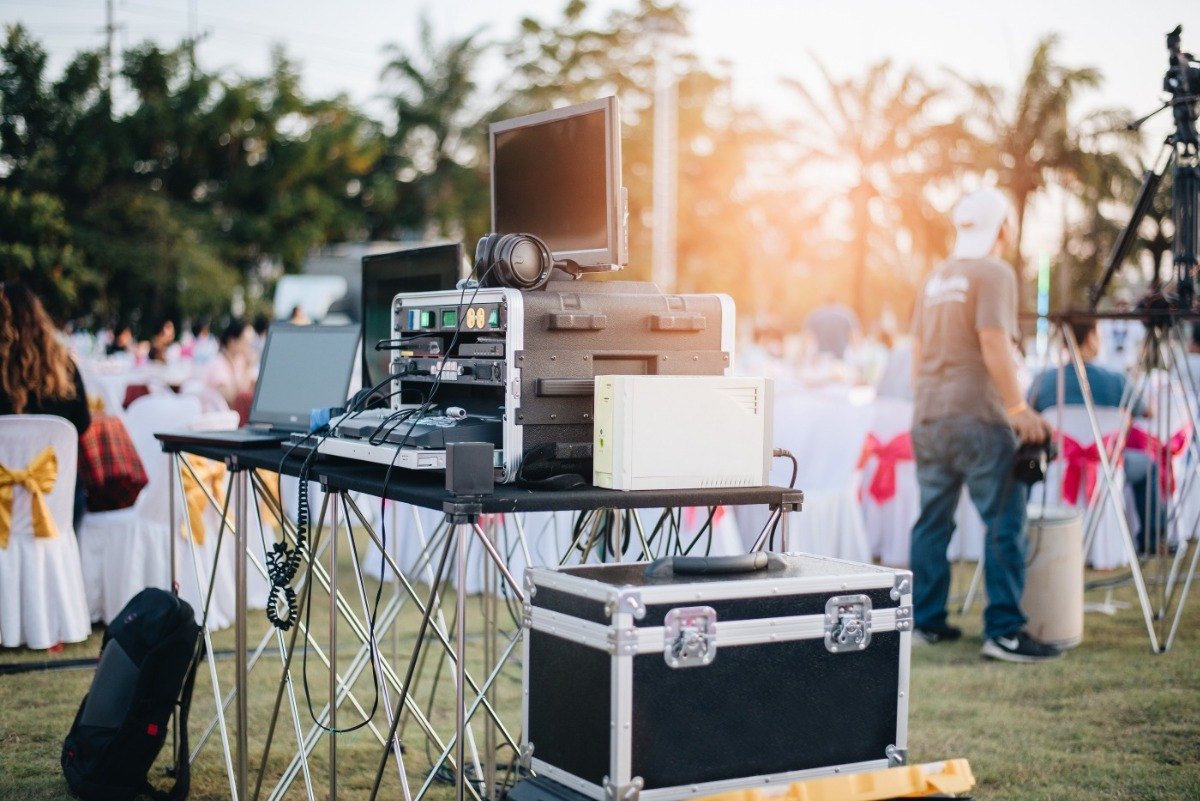 13 Top Tips for Planning an Event
Event Planning: Tip 1
Plan Early and Be Flexible
Whether you are planning an entire event or whether you are exhibiting at one, ensure you start planning as soon as possible. Leaving things to the last minute will only add unnecessary stress to you and your helpers or staff on the day.
Plan in stages according to priority. For example, book your accommodation early and you will be able to take advantage of the early-bird discounts.
Arrange transport in advance;
Will you travel by train or road?
Will you need to hire a van to transport your equipment or stock?
Will your team / helpers / volunteers / staff need transport and/or accommodation?
Assign responsibilities to each member of your team and ensure they know what is expected of them on the day, e.g. transport, setting up stalls, greeting visitors, etc.Outdoor events are subject to change; keep calm, unflustered and be flexible. Your calmness will flow over to your helpers and they will be more likely to assist you in your planning.
Event Planning: Tip 2
Develop Your Event Branding
Once you have your goals, your budget, and your team--it's time to start the fun aspect of event planning.
If your budget is very strict, creating your own branded materials can have a very small, if any impact on your costs, if you use the correct tools.
You can use graphic design tools like Canva, Pixlr, GIMP, and Piktochart offer some (usually all of their) services for free. You can even use pre-made templates to make the entire process that much easier.
When you are making marketing materials and other graphics, you need to optimize each marketing outlet. There is no universal image size on social media, so if you aren't careful your graphic could get cut off or rendered poorly.
What is the name of your event?
What is the theme of your event?
Do you have a logo already made?
What is the aesthetic and colour scheme that you have decided on?
The majority of these questions should be handled by your promotions coordinator(s), with the input of your team as well.
Event Planning: Tip 3
Book Your Venue
Once you have the date fixed, it is crucial that you book your venue as soon as possible afterwards. The date and location of your event need to be set in stone before you can begin to advertise your event--so the venue needs to be booked as soon as possible in the planning stage.
Remember--some flexibility surrounding the date might help you out and open you up to more possibilities in venues. Things you need to consider when picking a date are:
Accessibility:
Are there accessible entrances and elevators in the venue? Does the venue have all-gender washrooms? Is there space for interpreters? There are several other factors that go into choosing a venue as well.
Size:
The space needed for a fifty person event is very different from the space needed for a five hundred person event. You will also need to consider whether or not you'll need additional rooms for breakout sessions.
Parking:
Is there a parking lot available for use or will attendees have to use public transport?
Insurance:
will you need to buy separate insurance? What are the venue's liability rules and regulations?
AV:
If you have to use speakers and microphones during your event, make sure you choose a venue where you can set up this equipment easily. This goes for WiFi access, cellphone usage, and any other technology you will need to use during your event.
Costs:
What is the deposit that the venue is asking for? Will you have to pay additional costs? How much will you get back if you have to cancel last minute?
Event Planning: Tip 4
Prepare for all Weather
Considering the temperamental UK weather, you may like to invest in a pop-up tent or gazebo, which will provide shelter in both rain and sunshine.
It could have a dual purpose of offering shelter to customers and passers-by, as well as a surface on which to attach or print your own logo, design or another form of advertising.
You could also consider giving out umbrellas or waterproof ponchos if the weather turns wet.
Event Planning: Tip 5
Practical Considerations
It is your social responsibility to do all you can to avoid any accidents or injuries at your event or stall. Do a risk assessment, carefully going through all injury possibilities systematically and thoroughly.
For example, if you erect a tent or gazebo, ensure the guide ropes, if any, are clearly visible and can not be tripped over or walked into; think of both children and the elderly. See our Information on Health and Safety for Community Groups for more details.
Decide who in your team, who are suitably First Aid qualified, will be responsible for First Aid. For larger events, First Aid organisations or Charities can be requested to attend. If you are planning a larger event, ensure there is a dedicated, clearly marked, First Aid point for your customers.
Investigate whether you need to secure Public Liability Insurance. The festival 'rules & regulations' or terms and conditions may give guidelines on this.
Event Planning: Tip 6
Power supply
All outdoor events will require some form of temporary power supply. Whether you need to inflate a bouncy castle, play music or keep food refrigerated, you should seek a reliable power source for your event.
Outdoor lighting
Food preparation equipment
Refrigeration for drinks and snacks
DJ equipment
Heating or cooling equipment
Security lighting and equipment
Phone charging
When considering the power required think about:
A silent generator offers the most practical power supply for outdoor events. You will need to calculate how much power you require for your event and hire an appropriate portable generator. Talking with the generator hire company will offer you helpful advice about which generator is right for you.
Do you require a silent generator for your outdoor event?
Bristol Event Generators offer a wide range of silent generators for outdoor events and festivals. We provide super silent generator rental throughout Bristol, Cardiff, Bath and even as far afield as Gloucester. Call today if you are planning an outdoor wedding in Bristol, Wiltshire or Gloucestershire.
Event Planning: Tip 7
Essential Supplies
e.g. power outlets, stationery, cash, etc.
If you intend playing music or using lighting, or anything else that needs a power source, ensure the equipment is safe and do not overload power points. Use the correct length extension cords, with due attention to the safety of your customers, e.g. trailing wires.
Other essential supplies include:
Cellotape or stronger packing tape, pens, Post-It notes, clips to hold things in place if it gets windy, First-Aid kit, your business cards, bags or something customers can put any purchases in if required. If you have access to a powerpoint, take your phone charger!
If you're selling, ensure you have a cash float and a safe place for personal valuables. Carry a notebook or ensure you have a dedicated place on your iPad, Tab or phone to note down concerns or queries during the event.
Event Planning: Tip 8
Communication
Have a reliable means of communicating with team members, helpers, volunteers or staff. Walkie-talkies make life a lot easier to communicate without the risk of bad phone signals, data, or battery problems.
The event organiser will need to be in control of various important roles leading up to and throughout the event. You will need to fill the various roles that are required. These people will report to you and some may need to be taught various technical skills.
Create a plan of where everyone needs to be at any time and how you can get in contact with them if required.
You will need to make yourself available to the staff delegated to various roles. This means that you will need to free yourself up from unnecessary commitments during the day.
Your input and direction will be in high demand as the event begins or in the period leading up to the day. So be available whenever possible and be easily accessible.
Event Planning: Tip 9
Plan And Delegate
Figuring out a plan, that includes the amount of work that needs to be done and by what date can be intimidating, but it will be worth it in the end.
Establish a core planning group to help organise the event, and then add in your extra workers. However, you need to be clear about the jobs that they are responsible for during the event.
Generally, events are way too much work for just two or three people. So you will need to try and get more people involved in any way that you can.
You can do this by:
Advertising your planning meetings.
Asking potential volunteers the best times and dates for your planning meetings.
Creating early publicity material for the event, which can also double as attracting volunteers.
Putting together a job list that can be done by any volunteer, especially if they do not attend meetings.
Pinning a list on the noticeboard and asking for a pledge of time, food, or raffle prizes.
Ask other groups to get involved--they may want to volunteer for a particular aspect of the event.
Make sure every worker and volunteer knows what is happening. Communicate regularly and be clear about your expectations.

Event Planning: Tip 10
Create a Publicity Plan
Even if you have the best speaker and the greatest entertainment there is, you will need publicity if you hope to ever get anyone through the door to your event.
You can start event promotion by putting a notice up on your webpage, then send out a newsletter or email with a save the date notification. This will then build to other offline and online publicity, media relations, and other outreach efforts to get RSVPs.
Some important components that are crucial to your plans are:
Web announcement
Social Media
Email blasts
Press and media connections
Printed Materials
Lastly, the promotional plan is not finished until post-event thank you's, acknowledgement to the sponsors, and articles about the event's success and fundraising efforts are sent out.
Event Planning: Tip 11
Final Preparations
When the week of the event starts your job is to start setting up and giving everything a once over to make sure it's all correct.
What You Should Do Before the Event:
Call your vendors to check on the equipment, catering, and sponsors.
Confirm the date and time that you will start setting things up with the venue owner.
Test all equipment as it arrives at the venue.
Set up the ticketing system so attendees can be checked in.
Create a final schedule to handout to your staff.
Prep the swag bags with items from your vendors.

Create a volunteer management system that is able to track shifts and responsibilities if you decide to bring in outside help.
Once your event begins, make sure you start your role as overseer of the entire event. Manage the attendees, your staff, and their needs, but be careful not to micromanage.
Trust in the work you and your staff have done before the event--trust your staff to work efficiently and carefully.

Event Planning: Tip 12
After The Event
Inspect the venue after the event for a final clean up and take this time to make sure there is nothing damaged or broken.
Legally, you have to record and report any accidents or incidents to not only your insurer but the owner of the venue.
Event Planning: Tip 13
Evaluation
Ask the attendees to complete a questionnaire or survey to get feedback on how your event was received. You should also have a debrief with all workers to assess what went wrong and what could have gone better during the event.
There are different methods of boundary creation that can result in different types of boundary description. Any misunderstanding can lead to boundary disputes.
Whether you are planning a large or small event, or whether you are exhibiting at someone else's event, the above planning tips will help you avoid common pitfalls.
Do you require a silent generator for your outdoor event?
Bristol Event Generators offer a wide range of silent generators for outdoor events and festivals. We provide super silent generator rental throughout Bristol, Cardiff, Bath and even as far afield as Gloucester. Call today if you are planning an outdoor wedding in Bristol, Wiltshire or Gloucestershire.