Music Concert and Festival Generator Hire

Bristol, Bath and Cardiff
Are you looking for Music Concert or Festival Generator Hire? We offer a range of power generation services for events throughout Bristol, Bath and Cardiff.
For any festival or outdoor music concert to be successful, the technical team must have adequate and reliable power. The most important aspect of keeping your event running is a generator that you can trust.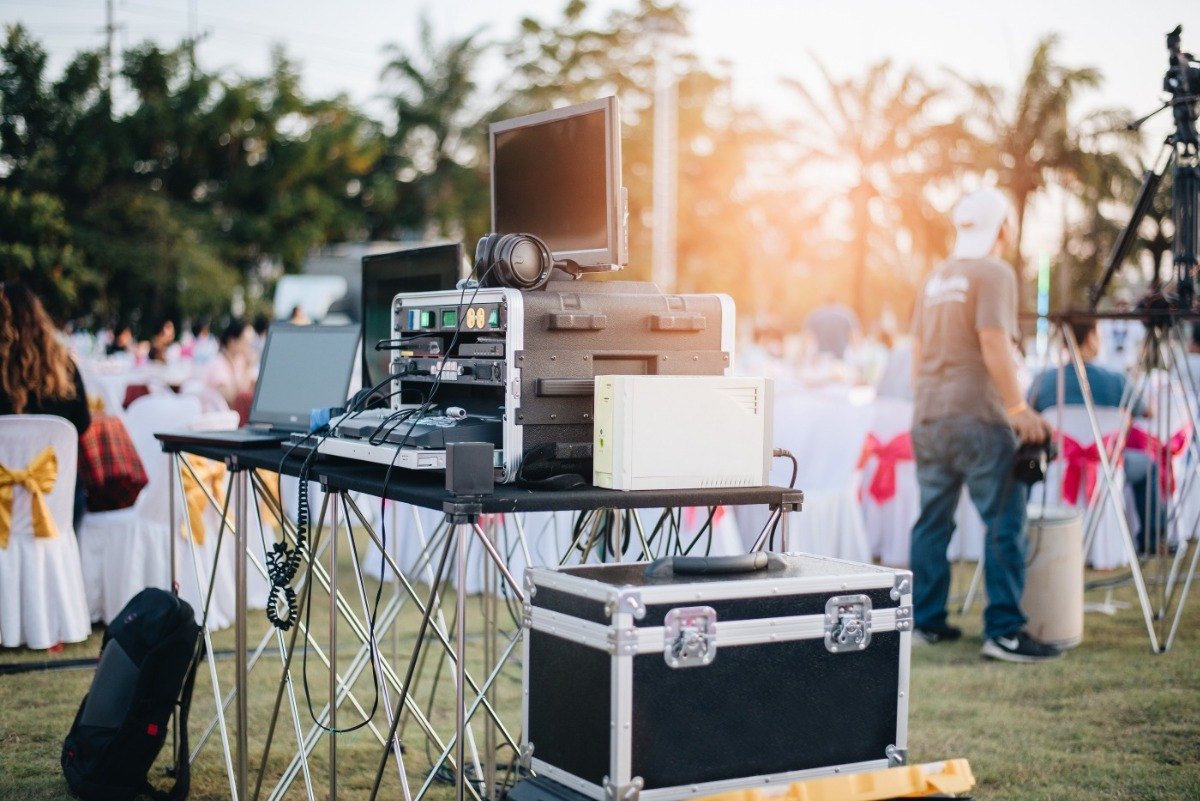 Bristol Event Generators can supply super silent generators for hire, which are perfect for festivals and concerts.
We have a fleet of road tow generators and truck-mounted generators, making it easy for us to deliver the services to any location or site without any difficulty and on time.
The generators are perfect if you wish to avoid obnoxious sound; they do not produce loud or irritating noise. They also weigh less than 3500kgs for easy mobility.
Whether your site has a fixed power system and you require back-up power or building a power network from scratch, Bristol Event Generators will meet all your requirements without any failure or delay.
How do you run a successful festival?
Before you can think about running a successful festival, you have to plan for success.
Set your goals:
You need to set yourself goals so that your celebrations can run smoothly.
These can provide you with the requirements you need to ensure that everyone has a good time. Things you could include as your festival goals might be to ensure that you met all the health and safety requirements, increasing your social media engagement and ensuring that you can provide all the power needed.
We can help you take care of the latter; with our many years of experience in providing mobile generators, our team can help you meet your festival's goals and requirements.
What is your budget?
Once you have established what the goals of your festival are going to be, you can move on to consider your budgeting. Budgeting covers everything from site rental you want to hold your festival on, booking the talent to entertain your crowds and even which catering and sanitation you will use.
Consider Location:
After determining your budget, you can think about where you want to hold your festival. It should ideally be somewhere accessible by road, as this will help both your customers and your staff access the site more easily.
It would be best if you also thought about whether the site you wish to hold your festival on will give your customers the experience that you want them to take away with them.
Other logistical thoughts should also bee considered when selecting a site for your festival. As mentioned before, you should ensure that you support your celebration through access to a road; you might also want to think about public transport or parking on your intended site.
Additionally, you should ensure that your site has room enough and facilities to accommodate your power needs. Ensuring that you hire generators powerful enough and silent enough to help run your event should be of paramount importance.
Book your performers:
Next, you should book your acts and services you wish to have at your festival. Hiring acts and services are one of the most critical steps in creating your event, as this is how your customers will be entertained and provided for during your festival.
You need to consider the kinds of people you will be catering for; there's no point hiring burger flippers and a hog roast if you're putting on a festival for vegetarians.
Likewise, it would be best to consider the kinds of music your customers will want to hear. You'd feel pretty silly booking hip-hop or drum and bass acts when your audiences are country and blues fans. You'll need to keep your budget in mind when undertaking this step especially.
Hire the right staff:
You will also need to make sure that you adequately staff your festival throughout its duration.
Whether you'll be hiring staff or bringing in an army of volunteers, they will all need coordinating to ensure your festival runs smoothly. You'll need to consider your festival's staffing needs; a larger event will naturally require more staff.
Several websites can help you to source volunteers locally; otherwise, you might want to try publicising your event on social media and recruiting through advertisements.
Planning the logistics:
You will also need to ensure that your festival runs on schedule. Effective scheduling will help your crowds thoroughly enjoy what you plan to provide for them while allowing your acts and services to run like clockwork.
Consider how all the infrastructure and logistics of your festival will move, ensuring that they can do so safely and on time. Make sure that everyone is aware of the site's locations by providing maps or booklets to festival-goers.
Mapping your site will allow everyone to know where the emergency points, parking areas, and facilities will be, amongst other things. You can also use your schedule to help advertise your festival, giving people an idea of how professional your enterprises are.
Monitor the event in progress:
After you've finished all your planning, budgeting and booking, it's time to sit back and enjoy your festival. Though don't sit back too far, you still need to do things to ensure that your festival runs smoothly.
Some last-minute changes and problems pop up with any enterprise, and especially with events with as many moving parts as a festival. It would help if you prepared for all eventualities, such as needing to relocate your equipment (an easy task with a mobile generator).
Additionally, it would be prudent to anticipate scheduling issues with your acts and even ensure that your staff follow your safety and security protocols. It would be best to remain flexible throughout your festival so that you can tackle any problems that might rear their ugly heads.
How are festivals powered?
Given that most festivals occur in the countryside in the middle of fields with no access to a power grid, mobile generators are your best bet for power.
Depending on the celebration's size and duration, you will have to select the right sized outdoor generators required to do the job.
A mobile generator hire company, such as ours, will provide power distribution to stage sets, sound systems and site lighting during the festivities.
However, there are also many other ways that a mobile generator hire company such as ours can support your power requirements. These requirements can be anything from catering services, beer stands, toilet facilities or even rides.
Depending on your needs, you will have to select the right sized mobile generator hire for the job with the right kVA and power distribution. As festivals tend to be large scale events that go on into the early hours, large scale site lighting is often needed. Powerful mobile generators are your best bet to provide the power necessary to make sure you sufficiently light your site to help keep everyone safe.
Do you need a power supply?
Our engineering team are available for installing and maintaining the generator on site.
Our team are fully trained and have many years of experience in providing electricity for outdoor events. We can deliver the best services by a generator hire company, including cable distribution and site lighting for any size events.
Bristol Event Generators will meet the energy needs of large events that require more than one generator, meaning that we are in an excellent position to manage an event that needs more than 20 generators at once.
We can help you add power to large festivals as well as exhibitions. You do not have to worry about standby power because it is also available when needed.
15-20 KVA Generators
50-80 KVA Generators

20-40 KVA Generators
100-135 KVA Generators

How much power do I need for a music festival?
Regarding how much power you would need to run a music festival, the answer is - quite a lot.
In the UK, where we operate at 240v, rather than the other countries that run at 110v, a generator sized between 200kVA to 300kVA should be enough to run a small festival stage (around 5,000 audience members).
Up at the larger sized events, such as Reading and Leeds or Glastonbury, we're talking generator hire sets running thousands of kVA. These generator sets are known as 'sets'.
Given that your festival is most likely going to be in the middle of nowhere, diesel fuel generators are the ones that will supply the several thousand amps of power needed to run your festival.
These will be located behind the stage and will often be silent generators so that your audiences and acts will not be distracted.
You will usually have a couple of generators running side by side. This way, the show can go on being run by the second generator if one goes down.
If you fail to make sure other generators back up your generators or at least have engineers on-site to fix the problem, then your festival is likely going to be very dark and very quiet.
Besides the generators required to run your stages, you'll also need to think about what generators you'll need to run your other services. You don't want to run your food stalls from the same generators as your main stage, risking the burger flippers shutting the whole site down.
Catering trucks won't need the powerful silent generators necessary backstage, so you will need to do some research as to how powerful a generator and how much fuel you may need to keep your crowds well-fed.
Festival power usage
Various things take up power usage at festivals, whether on-site lighting, amplifiers, musical equipment, or even catering services.
To ensure that your festival has the power it needs, you must employ the right reliable generator hire.
Our company generator hire can ensure that you have a suitable power distribution supply so your event can go off without a hitch. So call or contact us today.
Why Choose Us?
Our team is highly skilled in producing reliable power for supporting pre-existing systems or temporary installations.
We have the experience necessary to work in any condition on the site. Our expertise includes giving solutions to sites that are under-equipped or venues in unusual locations.
Bristol Event Generators has continued to deliver the best services to clients. Our team of experts has continued to ensure that they provide a consistent power supply and equipment that will not fail. You do not have to worry about the weather condition on the day of the event. The team still delivers the best in all weather conditions.
Bristol Event Generators has enough stock of equipment to make sure that you will have your needs met at any time that you plan the event. Our adaptability means that every time a client needs the services, we can rig, maintain or service our equipment while on site.
If you are touring, our power distribution equipment includes adaptors and transformers for overseas ratings and connections.
Our generators range from 6kVA to 135kVA. The company can source for what you want to see if it is not in stock. We also offer maintenance services on-site in case it is needed. You can be confident that we can provide power for live events without disruption.
Our services for generator rental
Our company can give these services and more on any UK site from sound and lighting, kitchen power for catering, air conditioning, heating power, toilets, and port cabins.
So if you need music concert or festival generator hire in Bristol, Bath, Cardiff or Gloucester, we are your first choice.