Welcome to Bristol Event Generators
When you hire diesel generators from Bristol Event Generators you can rely on our 30 years of experience to help make the process as straightforward as possible.
All of our popular diesel generators for hire are tested by a qualified electrician before the delivery day to ensure optimal and safe performance.
Our hire terms are competitive and flexible. We pride ourselves on providing the bestcustomer service possible, with a prompt delivery service and reliable, hassle-free diesel generator products solutions.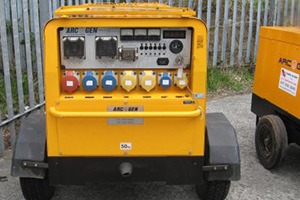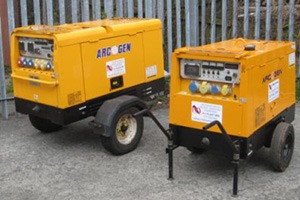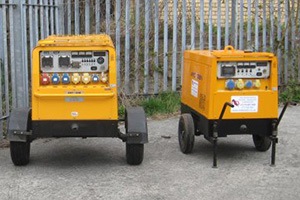 ARE YOU LOOKING FOR SILENT EVENT GENERATOR RENTAL?

Silent generator hire is the most effective option for powering your outdoor events. When you are managing special events or construction project, our diesel generators offer the power required for your load.
From our central location, our silent generators hire service is available within a 50-mile radius covering the South West.
Areas include Gloucestershire, Swindon, Bath and Cardiff.
Over the years, we have established an outstanding reputation with domestic and business clients.
In addition to our reliable generator hire service, we also offer a complete range of new generators for sale.
All of our stock is sourced from reputable manufacturers in the industry for maximum peace of mind and reliable service.
Our complete range to hire include 15-135 kva.
Portable Generator Hire
If you require a portable generator, Bristol Event Generators supply a vast range of used and new diesel generator products available for hire for all your needs and requirements.
You can hire one of our Portable Diesel Generators for short or long term projects. We can supply suitable portable generator equipment and products for electrical outage emergencies, parties and weddings held outdoors or in a marquee, building sites, festivals and outdoor markets.
Whatever you need to hire portable generator equipment and products for, our online team will give you all the help and advice you need. Bristol Event Generators is based in Bristol and supplies the local area and South West of England. When you hire one of our diesel generators online, you will be hiring the highest quality, fuel-efficient, top specifications and super silent items available.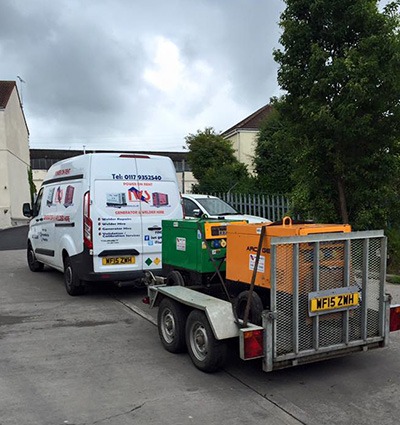 Events Generators Rental
If you need to hire for mobile power distribution equipment, your business or special occasion, contact us today.

Our company specialise in providing a comprehensive and personal power source solution for a wide range of open-air celebrations such as weddings, music festivals and fairs.
We power for DJ sets, lighting tower applications, food preparation products. We can provide load transfer panels along with cabling and customer support.
We have a specialist hire fleet of diesel generators of various sizes to suit events of different sizes. If you are unsure what size generator your event needs to hire, please give us a call, and our friendly team will be able to advise accordingly.

If required, our equipment can be delivered on-site with all the distribution units and any required cables.
If you are looking for diesel generators to hire, we include servicing, fuel and power for any occasion. Cable protection systems are also available for health and safety purposes. If you need the additional cable hire, please let us know at the time of booking.
If you are organising an outdoor function and in need of our events generator products hire services, why not give us a call or send us an e-mail to see how we can help?
Generator Hire Near Me
If you are located in the South West of England and looking for a silent generator equipment hire service near you, look no further than Bristol Event Generators.
We are the number one premium provider for generator products hire throughout Wiltshire, Avon, Gloucestershire, and Somerset.
Please note that our central location and proximity to the transport infrastructure allow us to extend our hire services to a 50-mile radius of the city centre.
If you are looking for 'Generator Hire Near Me', then give us a call. It means customers as far as Cardiff, Bath, Gloucester, and Southampton can benefit from hiring our generator equipment servicing for any occasion they might require.
Bath
Bristol
Chippenham
Swindon
Stroud
Cirencester
Dursley
Gloucester
Warminster
Bridgewater
Frome
Trowbridge
Patchway
Portishead
Cardiff
Hereford
Clevedon
Burnham-on-sea
Weston-super-Mare
Shepton Mallet
Lydney
Chepstow
Newport
There are many reasons that people choose to rent from our number one generator equipment hire company.
Whatever the celebration, there is always equipment that requires a reliable power supply. Our generator equipment is available for hire for sound systems, lighting and other mobile electrics.
The kVA size of the generator equipment that you choose will depend on the power supply required. If you are in the construction industry, you will usually need more robust products with higher kVA capacity than a wedding which requires only enough amp for music and refrigeration.
Please speak to our experienced hire company online today do discuss the suitable kVA required for your events. We may be able to provide special offers for long term rental.
Knowing the right information can save you on fuel costs and offer enough power for the load required. Our generator products hire team will provide the correct cabling and full training on managing the equipment hire. We will advise on fuel storage tanks and maintenance during your hire period.
If you require longer-term solutions, we can also offer hire generator equipment sales.
To make a generator silent: It must be put into a soundproof container, as they are loud during operation. We use a wide range of materials to create our silenced generators.
It is now the law that you hire silent diesel generators, as they can be disturbing for employees, customers, and other public members. To find out more about silenced generators, please contact us here at IWS Generator Hire.
The noise that is produced by diesel generators is measured in decibel ratings. Loud diesel generators are classed as anything over 57 decibels, and quiet generators are classed as anything below that. A soundproof container silences the sound to avoid disturbance for staff and members of the public. They are also ideal for outdoor events, including weddings and festivals.
Its power output measures the size of a generator. A large kVA generator can power various electronics, and a small kVA generator can only power a small number of electronics. To power your necessary electronics in a small house, you will need a 5000-watt generator. It can power your fridge, freezer, lighting, heating and some luxury items.
How long generator products equipment lasts will usually depend on the model and brand. It will also depend on how often you run the generator and what you use it for. If you use if for a back-up system, then please note that it will last longer than it would if you use if for your main power supply. If you would like some advice on this topic, please don't hesitate to give us a call.
Do you need generator equipment or products to power your event? Contact our team today for silent generator hire in Bristol and the surrounding areas. Call 01172 541 059 to discuss your requirements.