Silent Generator Hire in Bristol
From our central location in Bristol, our silent generator hire service is available within an 50-mile radius. Over the years we have established an outstanding reputation with domestic and commercial clients. In addition to our reliable generator hire service, we also offer a range of new generators for sale. All of our stock is sourced from reputable manufacturers in the industry for maximum peace of mind and reliable service.
When you hire a generator from Bristol Event Generators, you can rely on our 30 years of experience to make the process as straightforward as possible. All of our generators are tested by a qualified electrician before delivery to ensure optimal and safe performance. Our hire terms are competitive and flexible. We pride ourselves on providing the best customer service possible, with a prompt delivery service and reliable, hassle-free generator solutions.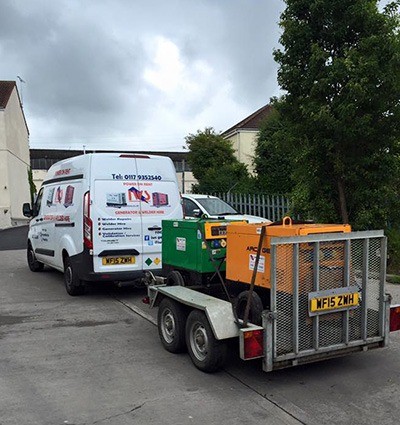 Event Generators Rental
If you need Event generators, contact us today. We specialise in providing a comprehensive and personal power source solution for outdoor events such as weddings, music festivals and fayres. Our hire rates are competitive, and we will be more than happy to provide a free, no-obligation quote for your bespoke hire terms.
We have a specialist hire fleet of generators of various sizes to suit events of different sizes. If you are unsure what size generator your event needs, please give us a call, and our friendly team will be able to advise accordingly. If required, our generators can be delivered on-site with all the distribution units and any required cables.
We can also provide cable protection system for health and safety purposes. If you need the additional cable hire, please let us know at the time of booking.
If you are organising an outdoor event and in need of an event generator hire, why not give Bristol Event Generators a call or send us an e-mail to see how we can help?
Generator Hire Near Me
If you are located in the South West of England and looking for a silent generator hire service near you, look no further than Bristol Event Generators. We are the premium provider for generator hire throughout Bristol, Wiltshire, Avon, Gloucestershire and Somerset.
Bath
Bristol
Chippenham
Swindon
Stroud
Cirencester
Dursley
Gloucester
Warminster
Bridgewater
Frome
Trowbridge
Patchway
Portishead
Cardiff
Hereford
Clevedon
Burnham-on-sea
Weston-super-Mare
Shepton Mallet
Lydney
Chepstow
Newport
Our central location in the heart of Bristol and proximity to the transport infrastructure allows us to extend our services to 50-mile radius of Bristol. If you are looking for 'Generator Hire Near Me' then give us a call. This means customers as far as Cardiff, Bath, Gloucester and Southampton can benefit from our services for any event or occasion they might require.
We are proud to be Bristol's local generator hire specialist. Our dedication to customer service has established an outstanding reputation in the local community for our friendly and efficient service.
A good portion of our work is returning customers or recommendations. We have worked with both domestic and commercial clients for their temporary power source needs. From a romantic wedding to a complete construction project, we are the specialists you can count on.
Event Power Distribution
In addition to our excellent range of generators for hire or sale, Bristol Event Generators can also provide a range of event distribution units for the events industry. These power distribution units are designed to provide a robust, reliable solution for a range of different equipment. They can be placed in either indoor or outdoor location without any special protection. Our specialist, certified engineers, can install the units for you and provide any approved paperwork necessary.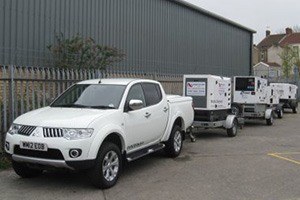 What Size Generator Do I Need?
Hiring a generator can be confusing and overwhelming, particularly if it's your first time. What size generator do I need? What is an Inverter generator? What do I need along with the actual generator? Bristol Event Generators are experienced experts on hand to answer any questions you may have.
Our comprehensive hire service can help your event organisation run smoothly with one less thing to worry about. At Bristol Event Generators, our specialist hire fleet of generators and vehicles are able for hire across the South West of England and South Wales.
We have a wide range of models from recognised and trusted brands, suitable for various sized events, from a small marquee wedding to a weekend music festival.
We can also respond to an emergency situation such as power outages to provide an emergency power source. Our emergency response team is available 24 hours a day on 01172 541 059.
All of our staff are continuously trained to the highest industry standard and are knowledgeable about our specialist fleet of hire generators. Upon delivery, we can complete the set-up for you and brief a responsible person on the operation and features of the generator.
Our smaller, compact range of generators can be easily transported to an alternate location on the site if required.
APPLIANCE
WATTS
APPLIANCE
WATTS
DJ Equipment
2,000 - 3,000
Outdoor Lighting
2,000 - 3,000
Television Set
75 - 200
Hot Water Service
2,500 - 3,000
Toaster
250 - 1,250
Iron
900 - 1,200
Washing Machine
500 - 3,000
Kettle / Jug
800 - 1500
Air Conditioner (Non-inverter)
1,000 - 2,500
Lights
25 - 200
Domestic Water Pump
See Electric
Motor below
Radio
60
Electric Motor
0.25 hp*
0.5 hp*
1 hp*
2 hp*

187
375
750
1,500
Radiator
1,000 - 2,500
Welder, 140 Amp(Non-inverter)
5,000
Refrigerator
100 - 800
9"Angle Grinder
2,300
Silent Generator Hire For Weddings
Do you want to hire a silent generator for a wedding? One of the most common reason to hire a generator is a temporary power source at an outdoor wedding.
This is usually required for outdoor wedding receptions for caterers and entertainment at rural locations. Bristol Event Generators have powered countless weddings across the South West, we would be more than happy to recommend a suitable generator model for your needs.
For an evening of entertainment, our compact, domestic generators are perfectly suited for the job. They are designed to run quietly to not disturb the atmosphere of the evening.
Contact Bristol Event Generators for silent generator hire for weddings if you are holding an event in Bristol, Somerset or Wiltshire. Our generators are regularly serviced to ensure they provide reliable performance for your special night.
We understand that wedding planning can be stressful, which is why we aim to provide the most efficient and straightforward generator hire service possible.
Super Silent Generator Rental in Bristol
As expected, the larger the generator, the more noise it will generate during operation. This is particularly a problem with music-related events and atmospheric weddings where noise can significantly affect the quality of the event. Bristol Event Generators have a range of super silent generator for hire in Bristol and the surrounding areas. If noise is a concern you have, please speak to us on 01172 541 059 and we will be able to help with choosing the most suitable generator for your needs.
100kVA Generator Hire Price
Bristol Event Generators is not a large, nationwide chain that likes to confuse our customers with technical jargon. We offer the best generator hire price in Bristol. If you have any questions regarding our product or service, please don't hesitate to get in touch and we will always try our best to help.
Our generator sizes range from a compact 6kVA to a generous 135kVA. As a general rule of thumb, the size of generator you need can be calculated by what you need to power, and where. Our team of knowledgeable engineers can help you decide which size generator is the best for your bespoke requirements.
Are you looking for silent generator hire in Bristol, Cardiff, Bath or Gloucester? Our hire terms are flexible with a fair, competitive rate, even for our large commercial 100kVA generator hire. All of our generators are thoroughly tested by a compliant electrician before delivery. Additionally, they are equipped with numerous safety features for maximum peace of mind.
---
Contact us
Complete the form below to discuss your outdoor or temporary power needs. We are happy to discuss how silent generator hire can benefit you. We can supply 6kVA to 135kVA generator hire for outdoor weddings, festivals, events, construction and more.
Call our 24 hour number 01172 541 059.