Silent Generator Hire Bristol
When you are managing special events or construction project, our diesel generators offer the power required for your load. From our central location our silent generators hire service is available within a 50-mile radius covering the South West. Areas include Gloucestershire, Swindon, Bath and Cardiff.
Over the years we have established an outstanding reputation with domestic and business clients. In addition to our reliable generator hire service, we also offer a complete range of new generators for sale.
All of our stock is sourced from reputable manufacturers in the industry for maximum peace of mind and reliable service. Our complete range to hire include 15-135 kva.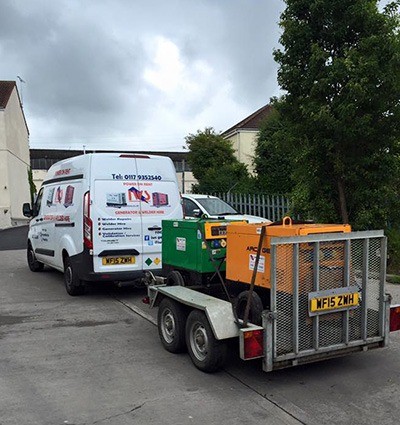 Events Generators Rental
If you need to hire for mobile power distribution equipment your business or special occasion, contact us today. Our company specialise in providing a comprehensive and personal power source solution for a wide range of open air celebrations such as weddings, music festivals and fairs.
We power for DJ sets, lighting tower applications, food preparation products. We can provide load transfer panels along with cabling and customer support.
We have a specialist hire fleet of diesel generators of various sizes to suit events of different sizes. If you are unsure what size generator your event needs to hire, please give us a call, and our friendly team will be able to advise accordingly. If required, our equipment can be delivered on-site with all the distribution units and any required cables.
If you are looking for generators to hire, we include servicing, fuel and power for any occasion. We can also provide cable protection system for health and safety purposes.
If you need the additional cable hire, please let us know at the time of booking. If you are organising an outdoor function and in need of our events generator hire services, why not give us a call or send us an e-mail to see how we can help?
Generator Hire Near Me
If you are located in the South West of England and looking for a silent generator hire service near you, look no further than Bristol Event Generators. We are the premium provider for generator hire throughout Wiltshire, Avon, Gloucestershire and Somerset.
Our central location and proximity to the transport infrastructure allows us to extend our hire services to a 50-mile radius of the city centre. If you are looking for 'Generator Hire Near Me' then give us a call. This means customers as far as Cardiff, Bath, Gloucester and Southampton can benefit from our generator servicing for any occasion they might require.
Bath
Bristol
Chippenham
Swindon
Stroud
Cirencester
Dursley
Gloucester
Warminster
Bridgewater
Frome
Trowbridge
Patchway
Portishead
Cardiff
Hereford
Clevedon
Burnham-on-sea
Weston-super-Mare
Shepton Mallet
Lydney
Chepstow
Newport
How Much to Hire A Generator?
There are many reasons that people choose to rent from our hire generator company. Whatever the celebration, there is always equipment that requires a reliable power supply. Our hire generator can be used for sound systems, lighting and any other mobile electrics.
The size of the generator that you choose will depend on the power supply required. If you are in the construction industry you will usually need a more powerful product than a wedding which requires enough amp for music and refrigeration.
Speak to our experienced hire company today do discuss the kva required for your events. We may be able to provide special offers for long term rental. Knowing the right information can save you on fuel costs and offer enough power for the load required.
Our generator hire team will provide the correct cabling and full training on how to manage the equipment hire. We will advise on fuel storage tanks and maintenance during your hire period. If you require longer-term solutions, we can also offer hire generator sales.